Bingo has become one of the most widely played games in the world. There are thousands of bingo players around the world which show how popular this game is. Bingo has been around for decades and players love it as it's an easy game that brings a lot of entertainment. It's an easy and dynamic game that allows people to hang out with friends, have fun, play and potentially win some prizes. Therefore, there are many fun facts about bingo you probably didn't know so far.
Just like most of the industries have been transferred online, so does bingo got its online version. Today, online bingo has become even more popular than land-based bingo. Online bingo games are similar to the bingo games played in bingo halls but they have some advantages. For example, online bingo has many offers, bonuses, and jackpots, and you can meet numerous people in the online chat provided in the bingo rooms. Plus, players use plenty of bingo superstitions to boost their luck when playing online bingo games.
If you're playing online bingo or have played at some point, you're probably familiar with the most popular types of bingo games:
These games can be found at the best bingo sites on the market and they have different themes to make the gameplay more interesting. But, did you know that you can find some more unique and fun bingo games at these sites? These come with a different number of balls and/or a different configuration of the tickets to provide you with an innovative gaming experience. Let's see what are the most popular unique and fun bingo games on the market.
Unique and Fun Bingo Games
What exactly does it mean for a bingo game to be "unique"? Well, a unique bingo game is a game different from the standard 90 or 75-ball bingo games. These games are one of a kind and they can have different layouts, themes, number of balls, gameplay, and more. When players get bored of playing the standard bingo games available at the bingo websites, they're looking for some more innovative and fun games. That's why we're here, to share the best unique bingo games that can be found online. Let's jump right into them.
30-Ball Bingo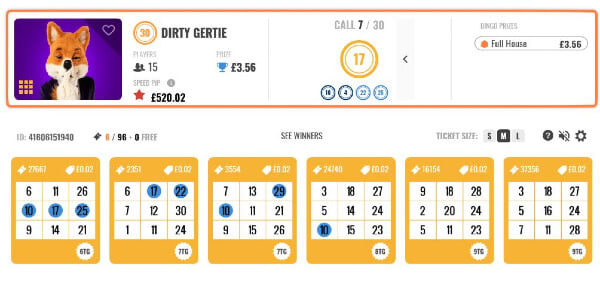 30-ball bingo is a smaller and quicker version of 75-ball bingo which is very easy and simple to play. As its name suggests, it's played with random numbers from 1 to 30 and each ticket has 9 squares. Due to the small numbers involved, the 30-ball bingo is a fast bingo game. It usually has only one winning pattern, which is simply marking off all numbers on your card. In addition, some bingo sites offer a simple pattern to complete with few numbers. On the screenshot, you'll find an example of a 30-ball bingo game - the Dirty Gertie.
Rainbow Riches Bingo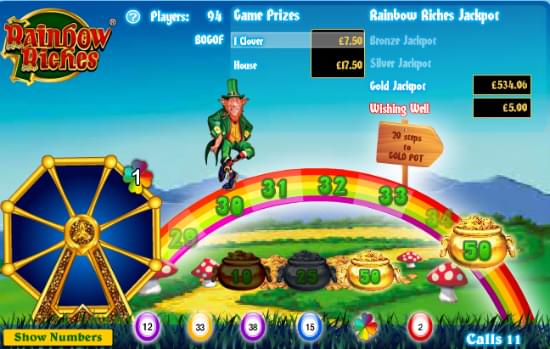 Rainbow Riches Bingo is a 40-ball bingo variant that is based on the popular Rainbow Riches slot. It features an Irish theme and the lucky leprechaun is present on the bingo ticket. The game is played on cards with 8 numbers, arranged as 4-leaf lucky clovers. Most of the games have prizes for 1 clover and full house. In addition, Rainbow Riches Bingo has 2 bonus features - Wishing Well and Rainbow Road. What's more, the Rainbow Road bonus is actually a progressive jackpot that can bring you huge prizes. Finally, this popular game has a Slingo version too, which is a combination of both bingo and slots - Rainbow Riches Slingo.
Bingo Roulette
If you're fan od casino games like blackjack and roulette, you're going to enjoy the Bingo Roulette game. It's a unique bingo game designed to match the 37 numbers on a roulette wheel. Here, bingo tickets have 8 numbers as chips on a roulette mat and players can have a maximum of 4 tickets per game. Once you've chosen one of the following: Chat Rooms Luxor, Mirage, Bellagio or Venetian, you can choose your preferred colour of chips and start the game. Every time a number on your board is called, your chip will be removed from the board and will count down how many numbers you have left to win the game. If you clear your board within 12 calls, you're the winner.
Picture Bingo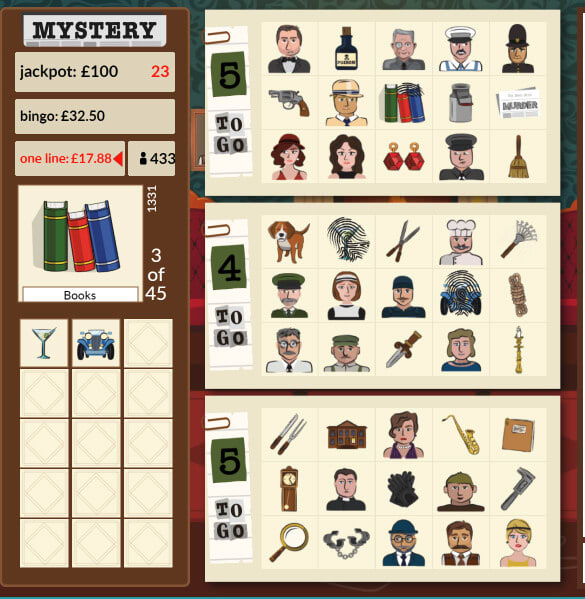 Picture Bingo is a 45-ball bingo game that is exclusive at Tombola. It is played on a 5x3 grid where all numbered balls are replaced with themed pictures, so you'll have to match the pictures. There are 3 themed rooms to choose from and each picture has its own animation that appears when it is called. The themes for the bingo rooms include Pirates, Mystery and Circus. Once you've made your selection, you'll be able to buy up to 3 bingo tickets. To win, you must be the first player to match all symbols on one ticket. In Picture Bingo the winning patterns are One Line and Full House.
Hexabingo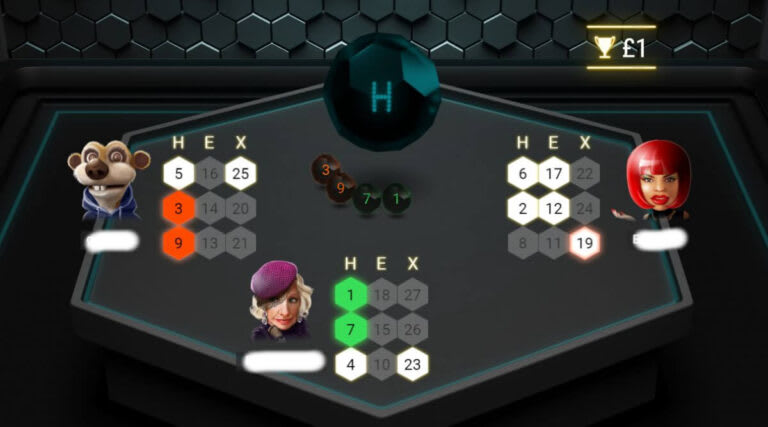 Hexabingo is an innovative bingo game that can be played at Unibet. It's a 27-ball bingo game whose tickets are arranged in a 3x3 grid. Each round in Hexabingo is played with just 3 players. You have one card each, and every round comes with a multiplier of between 2x and 1,000x the stake. To win, you need to complete a horizontal line. You'll be able to choose your personal avatar to make the game more interesting.
Start Playing Online Bingo Today
Now that you've learned more about the unique and fun bingo games, you'll probably want to try your luck at some bingo sites, claim your welcome bonus and play some exciting bingo games. If you don't have enough time to search for bingo sites, you can always turn to Bingo Scanner and play at some of the recommended websites. You can always be sure that you'll be depositing and playing in a safe and secure environment. The fun is guaranteed!
Here at Bingo Scanner, we feature the best new bingo sites that are currently available. All of the sites that we recommend are safe and secure and offer plenty of bonuses and games to the players. In fact, We don't just look at the homepage of a bingo site. In fact, we make an in-depth review and test each site individually, before we put it on our list. Therefore, you can be sure that you'll be playing at a reliable site!
Most bingo players turn to Bingo Scanner's best bingo sites to find the ideal one for their needs. Are you going to let us help you to find the greatest bingo site for you?