If you have never played bingo before, then now it's the right time to try it out. There is literally no person in the world why doesn't like bingo. And why? Because it's one of the most popular social games that bring people together so that they can play, have fun, and potentially win some great prizes. On top of that, bingo has great bonuses and promotions that will boost your gameplay and will help you win bigger prizes.
Today, bingo has transferred online and we have plenty of online bingo games played at bingo sites. Online bingo is the same bingo game that was played in bingo calls, which is now played at online bingo sites. It allows you to play any time you want from the comfort of your home. What's more, most of the bingo games are available on mobile devices, so you don't even have to turn on your computer. With online bingo, you can play with people all over the world and talk to them in the bingo chat rooms. Therefore, the fun is guaranteed!
Ever since bingo went online, more and more types of bingo games have been appearing, as bingo sites do their best to keep players entertained with new bingo games and new bonus offers. Some bingo variants are unique and different from the standard game, but most of them use the well-known form of bingo and add some extra features.
If you got tired of playing the most popular 90-ball bingo games or got enough of the 75-ball bingo games like Deal or No Deal Bingo 75, make sure to check the best 80-ball bingo games for suggestions on what to play next.
80-Ball Bingo
The 80-ball bingo is definitely is one of the fastest-growing bingo games, especially if we are discussing online bingo. An 80-Ball bingo card features 16 numbers in a four-by-four layout. Each of the four columns has the same colours and only particular numbers can appear in the column with the respective colour:
The numbers from 1 to 20 are red;
Yellow numbers are the ones from 21 to 40;
Numbers from 41 to 59 can only be blue;
Silver numbers are the last numbers in 80-Ball bingo – 60 to 80.
There are more than a few winning combinations in 80-Ball bingo and different combinations can be valid in different games. Some of the most popular winning patterns are Any Single Line, Any Line, Columns and House, House, Pattern, and Four Corners.
The price of one ticket for an 80-ball bingo game may vary and it depends on the number of players that are active. The same applies to the prizes you can win from an 80-ball bingo game. Generally, if there are more players and the tickets cost more, the prizes will also be higher. In some games there are guaranteed prizes, i.e. the operator ensures that each winner will receive a particular amount, regardless of the number of participants.
Most Popular 80-Ball Bingo Games
While 80-ball bingo might not be as popular as 90 or 75-ball bingo, it can still be found on many bingo sites and bingo players enjoy it on a regular basis. Here, we'll share the most popular 80-ball bingo games with you, all of which can be found at the top-rated bingo sites that we recommend here on Bingo Scanner.
Cashline
Cashline is a popular type of 80-ball bingo that can be found at Mecca Bingo. It has the standard layout so each ticket has 12 numbers spread across 4 columns. The game has different winning patterns that will bring you great prizes, from 4 corners to lines and to the well-known Full House. Plus, the game comes with 2 jackpots that allow players to win big: the Cash Attack Jackpot and the Elevator Jackpot. In addition, Mecca Bingo offers you to play a Cashline mini-game while playing in the main bingo room.
The Voice UK Bingo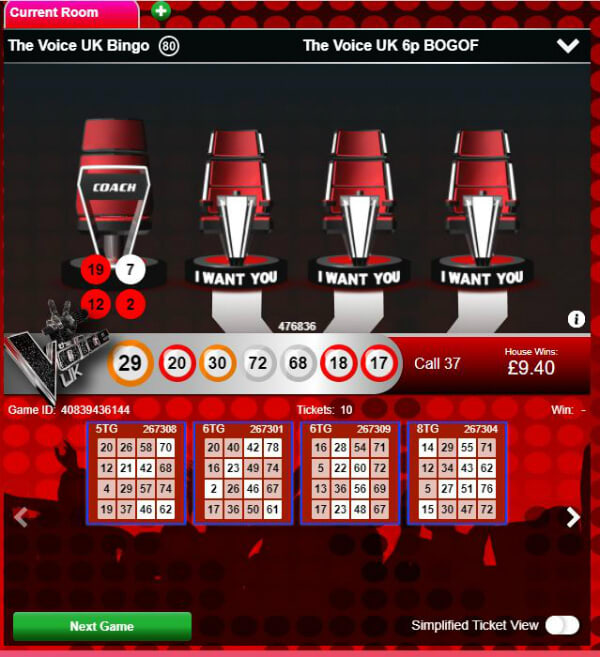 The Voice UK Bingo is an 80-ball bingo game that is based on the popular TV show "The Voice". It's an exclusive game at Buzz Bingo and each bingo ticket is presented as sixteen numbers in a 4×4 grid. Unlike other 80-ball bingo games that are available at bingo sites, there are no prizes for completing one, two or three lines in the Voice UK Bingo. The only prize is for a full house. When you open the Voice UK Bingo game, you'll notice the 4 chairs above the ball drawing process. Each chair comes with a different number. Some of the numbers can be while, while others will be red. If the number is red, that means a player has completed a full house with that number.
Where To Play 80-Ball Bingo
Today there are hundreds of bingo sites online and that may make it difficult for you to make a choice of where to play 80-ball bingo online. So, how do you pick a great bingo site? This is why Bingo Scanner exists - to connect you with verified bingo sites that have excellent rooms, jackpots and provide bonuses regularly.
Start Playing Online Bingo Today
Online bingo has become so popular that each week there are more and more bingo sites launched online. With so many bingo sites present online, it can be hard deciding where to play and which bingo site has the best offers. Luckily for you, here at Bingo Scanner, you can find the most popular and trustworthy bingo sites that offer many generous promotions.
So go through our list of the best new bingo sites, make your choice and start playing. Good luck!