When someone thinks about bingo, they immediately connect the game with fun and entertainment. That is because bingo is a social game of chance that is easy to play and bingo rooms are always full of friendly people. In bingo, players mark off numbers of cards as the numbers are randomly drawn by a bingo caller. The winner is the first person to mark off all their numbers or fulfil a certain pattern of winning numbers.
The game of bingo is loved by people of all ages, including seniors. In addition, it has been estimated that women love bingo so much and the number of female bingo players is bigger than the number of male players. Besides its social benefits, playing bingo also has mental benefits as it can boost your brain. And these days, bingo got its online version which is even better in terms of games and jackpots.
Online bingo is the same bingo game that was played in bingo calls, which is now played at online bingo sites. It allows you to play any time you want from the comfort of your home. To play online bingo, you just need to purchase virtual bingo tickets and join virtual bingo rooms. What's more, the popularity of online bingo resulted in launching hundreds of bingo sites, offering numerous bingo rooms and bingo games. And don't worry if you haven't played online bingo before, as you can become a smart bingo player in 10 minutes.
Ever since bingo went online, more and more types of bingo games have been appearing, as bingo sites do their best to keep players entertained with new bingo games and new bonus offers. One of the most popular bingo games is the 90-ball bingo, also known as UK Bingo. However, apart from the Brits, the Americans are also known to enjoy bingo on a regular basis, and the most popular type of bingo that is played there is 75-ball bingo. For that reason, we've found the most popular 17-ball bingo games you can find online. Feel free to check our list for suggestions on what to play next.
75-Ball Bingo
The 75-ball bingo is also called American bingo, and it is the second most popular type of bingo game. As you can see from its name, the 75-ball bingo is played with numbers from one to 75, placed on a bingo ticket that has five columns, split into 25 squares and filled with 24 numbers. What makes 75-ball bingo different from the other types is that its tickets contain word BINGO at the top of the card and each column is placed under a letter. In the middle of each card in the N row is a blank free space that all players may use to complete their patterns, write notes, keep track of the happenings in the game and basically use them as they wish.
It has been said that 75-ball bingo is a more dynamic and entertaining game, compared to 90-ball bingo. That is because 75-ball bingo has hundreds of winning possibilities, which means that there are hundreds of winning patterns that you can form on your tickets. However, in reality, not all of the winning patterns are included in every game. In most of the games, the most famous 75-ball bingo winning patterns are Double Line, X, and Blackout.
Most Popular 75-Ball Bingo Games
While 75-ball bingo might not be as popular as 90-ball bingo, it can still be found on almost all bingo sites. The 75-ball bingo games are available to play basically 24/7 at online bingo sites. Here, we'll share the most popular 75-ball bingo games with you, all of which can be found at the top-rated bingo sites that we recommend here on Bingo Scanner.
Deal Or No Deal Bingo 75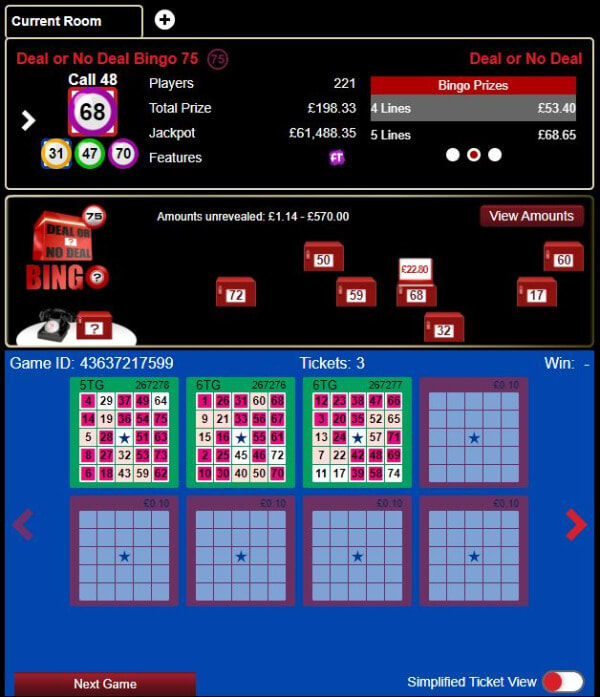 The Deal Or No Deal Bingo 75 game is exactly what you think it is - a 75-ball version of the Deal or No Deal bingo game with the 22 boxes feature. In this game, 5 prizes can be won - 1 Line, 2 Lines, 3 Lines, 4 Lines and 5 Lines. Of course, there is the Deal Or No Deal feature prize (full house) offered to the winner by the banker, and they can decide to accept the prize on offer or take the prize in the chosen box at the start of the game. Each Deal Or No Deal Bingo 75 ticket is made up of 25 squares in 5 rows and 5 columns. Each square contains a number, except for the centre square. The centre square on each ticket is called the "free square" and has a star in it instead of a number.
Bounce'T Bingo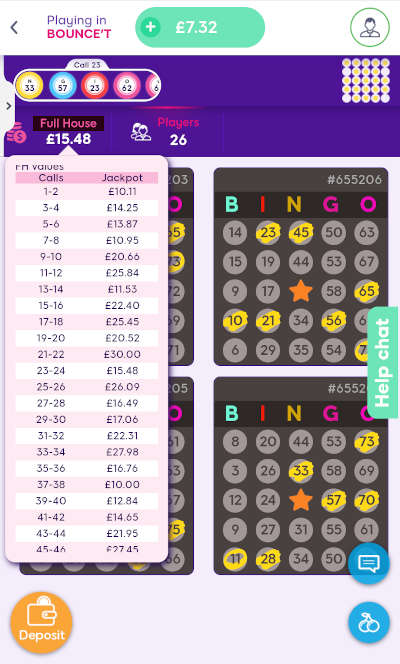 Bounce'T bingo is a 75-ball bingo game that can be found at the best Dragonfish bingo sites. It's played like a regular 75-ball bingo game and has a unique prize feature. The amount of money you can win is determined not by the number of tickets sold, but by how many balls were called when the winning player claims bingo. As the game itself is just a regular 75-ball bingo game, the same rules apply. You'll need to form the well-known patterns in order to win. As the more balls are called, you'll notice that the prize value is changing in real-time. If you want to view the different prize values, just click on where it says full house and it will appear.
Where To Play 75-Ball Bingo
Today there are hundreds of bingo sites online and that may make it difficult for you to make a choice of where to play 75-ball bingo online. So, how do you pick a great bingo site? This is why Bingo Scanner exists - to connect you with verified bingo sites that have excellent rooms, jackpots and provide bonuses regularly.
Start Playing Online Bingo Today
Online bingo has become so popular that each week there are more and more bingo sites launched online. With so many bingo sites present online, it can be hard deciding where to play and which bingo site has the best offers. Luckily for you, here at Bingo Scanner, you can find the most popular and trustworthy bingo sites that offer many generous promotions.
So go through our list of the best new bingo sites, make your choice and start playing. Good luck!