If you're a regular reader of the articles that we cover at Bingo Scanner, you'll be familiar with what we do and how much we love bingo. Therefore, it's obvious that we're also fans of Slingo games, which are a combination of bingo and slots. Slingo games are fun, exciting, easy to play, and ideal for bingo and slot fans. Slingo is a combination of 75-ball bingo and a five-reel slot. In Slingo, you play on a 5x5 grid which reminds of a bingo card, and there are reels below the grid. In Slingo, you don't have a bingo caller that is calling out the winning numbers, but instead, the numbers are given to you by the reels. You have to spin the reels and they will reveal five numbers or symbols.
We've already published our Slingo Starburst Review to introduce you to one of the greatest games that can be found at online bingo sites - a game that is a combination of bingo and the most popular slot of all times - Starburst. Now, it's time for another popular Slingo game that we're sure most of you will like - Rainbow Riches Slingo!
Rainbow Riches Slingo Review
The Rainbow Riches Slingo game, which some people also call Slingo Rainbow Riches, is a combination of the mega-popular Irish-themed slot called Rainbow Riches and a bingo game. The gameplay is, of course, in a Slingo format, and you need to bet between £0.50 and £200 per buy-in of 10 spins. This game is developed by Slingo Originals and all features were carried over from the original game, which means that you'll receive the same fun and excitement while playing.
When you access the Rainbow Riches Slingo game, you'll notice that it is composed of a bingo ticket and has a 5x1 reel at the bottom. In the reel, 5 numbers per spin are revealed, and if a number matches one of the numbers of the bingo ticket above, it will turn into a star. To get Slingo, you need to fill a whole row with star symbols, either horizontally, vertically or diagonally.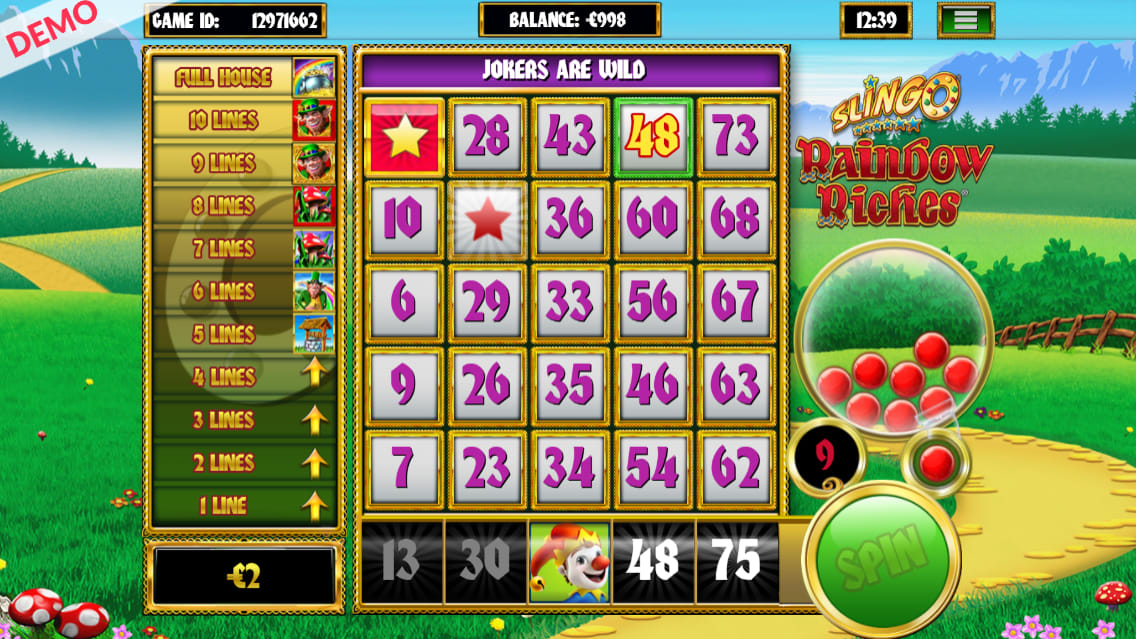 In Rainbow Riches Slingo, there is a bonus ladder located on the left side of the screen. To climb the ladder, you need to land Slingo wins. Once you've landed 5 Slingo wins, you'll climb high enough on the ladder to collect a bonus game. There are 11 fields on the ladder, and you'll reach the top by filling the whole bingo ticket with star symbols. Overall, the most you can win from Rainbow Riches Slingo is 1,000x the stake.
When you play Slingo Rainbow Riches, you'll come across a couple of special symbols. The regular symbols are simply numbers, while the special symbols appear on the bottom reel and will affect your playing in different ways:
The Joker - turns a number on the ticket into a star symbol;
Super Joker - allows you to choose which number on the ticket to turn into a star;
The Devil - blocks the whole ticket, so that symbols cannot be turned into stars on that column;
Free spins symbol - adds a free spin to the tumble on the right-hand side.
Rainbow Riches Slingo Bonus Features
As we've mentioned above in our Rainbow Riches Slingo Review, the bonus features from the original Rainbow Riches slot are also offered in this version. To get to the Rainbow Riches Slingo Bonus Features, you need to climb the ladder through your winnings. Here is what you can win:
Wishing Well - achieved after 5 Slingos - pick a wishing well and win a prize;
Cash Crop - achieved after 6 Slingos - 50 coins spin and reveal either nothing or a multiplier;
Magic Toadstool - achieved after 7 Slingos - pick toadstools for up to 3x multipliers and a fairy that can give you 3 more multipliers;
Red Magic Toadstool - achieved after 8 Slingos - you start with 4 picks, and you can get bigger wins;
Road to Riches - achieved after 9 Slingos - you spin a wheel to see how many steps you'll move along the multiplier road, and you can reach up to a multiplier of 500x;
Road to Riches Red - achieved after 10 Slingos - same as above, only bigger multipliers up to 1,000x are available;
Pots of Gold (Full House) - A wheel of bronze, silver and gold pots with multiplier values of 50x, 100x, 200x, 500x and 1,000x spins, and you get whatever multiplier that stops on the golden arrow.
Rainbow Riches Slot
Since it was released, the Rainbow Riches slot was one of the most popular games among the players and it still is. It is an Irish-themed game with five reels, three rows and 20 paylines. The game has more bonus features than your typical slot and perhaps this is one of the reasons why players prefer to get some reel action on this game. Playing the Rainbow Riches slot is very easy and straightforward, so make sure to read our full review and learn more about this exciting game.
Start Playing Slingo Today
If you liked what you read about Slingo Rainbow Riches, why not try playing it at some of our recommended bingo sites? Or, if you're looking for some new and fresh bingo games, make sure to check the new bingo games to play in 2021 and discover the best one for you. And of course, if you don't have enough time to search for bingo sites, you can always turn to Bingo Scanner and play at some of the recommended websites. You can always be sure that you'll be depositing and playing in a safe and secure environment. The fun is guaranteed!
Here at Bingo Scanner, we feature the best new bingo sites that are currently available. All of the sites that we recommend are safe and secure and offer plenty of bonuses and games to the players. In fact, We don't just look at the homepage of a bingo site. In fact, we make an in-depth review and test each site individually, before we put it in our list. Therefore, you can be sure that you'll be playing at a reliable site!
Most bingo players turn to Bingo Scanner's best bingo sites to find the ideal one for their needs. Are you going to let us help you to find the greatest bingo site for you?