Bingo is a game of chance and luck where players mark off numbers of cards as the numbers are randomly drawn by a bingo caller. The winner in bingo is the first person to mark off all their numbers or fulfil a certain pattern of winning numbers. Bingo has seen thousands of people going to bingo halls with their families and friends, having fun, celebrating different occasions, and throwing parties. And these days, bingo got its online version which is even better in terms of games and jackpots.
Online bingo is the same bingo game that was played in bingo calls, which is now played at online bingo sites. It allows you to play any time you want from the comfort of your home. What's more, most of the bingo games are available on mobile devices, so you don't even have to turn on your computer. With online bingo, you can play with people all over the world and talk to them in the bingo chat rooms. Therefore, the fun is guaranteed!
Ever since bingo went online, more and more types of bingo games have been appearing, as bingo sites do their best to keep players entertained with new bingo games and new bonus offers. Some bingo variants are unique and different from the standard game, but most of them use the well-known form of bingo and add some extra features.
One of the players' favourite bingo game is 90-ball bingo and you can find it on almost all best bingo sites. For that reason, we've found the most popular 90-ball bingo games you can find online. Feel free to check our list for suggestions on what to play next.
90-Ball Bingo
90-ball bingo is also known as British Bingo as it's played in the UK the most. This game is played on a 9x3 card with some spaces left blank. The British Bingo uses 90 balls, numbered from one to 90. Prizes are given to players who complete 1 line, 2 lines, or 3 lines, also known as the Full House pattern. In line with the 90-ball bingo, bingo callers often use bingo lingo, alternative slang terms for the different numbers.
Most Popular 90-Ball Bingo Games
Due to the popularity of 90-ball bingo, you'll find it at almost all bingo sites, usually 24/7. This resulted in having lots of versions of 90-ball bingo games around, many of them involving extra jackpots or additional patterns for winning. Here we'll share the most popular 90-ball bingo games with you, all of which can be found at the top-rated bingo sites that we recommend here on Bingo Scanner.
Deal Or No Deal Bingo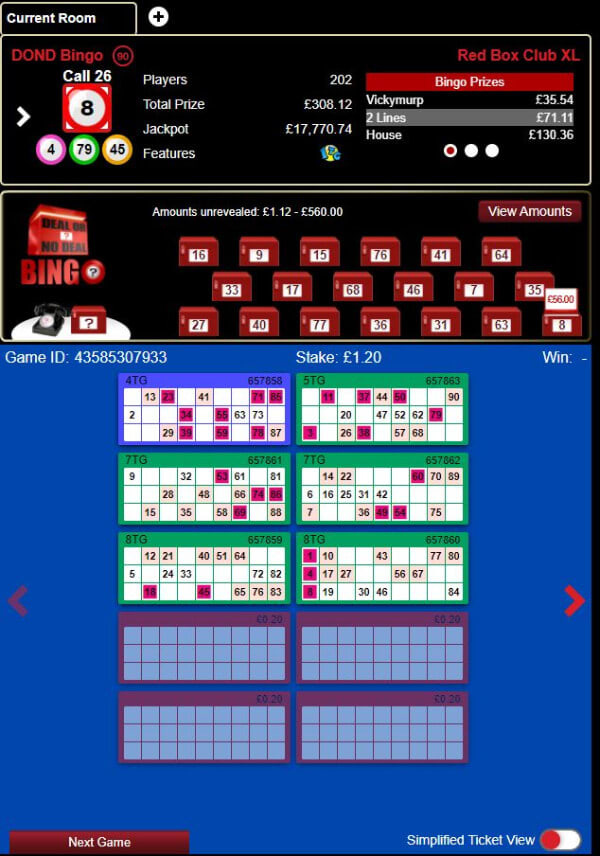 Deal Or No Deal Bingo is a 90-ball bingo game based on the popular TV show of the same name. The game was released a couple of years ago and is still popular on many bingo sites. There, we have the standard bingo cards and regular prizes, but also the red boxes of the TV show are present on the screen. 21 of the boxes have numbers of them and they are marked off as the bingo caller is calling out the winning numbers. The 22nd box is given to the player who wins full house and the player will be offered to play the bonus feature game. This feature asks the player to decide whether to accept the Banker's offer for the box or to open the box.
Britain's Got Talent Bingo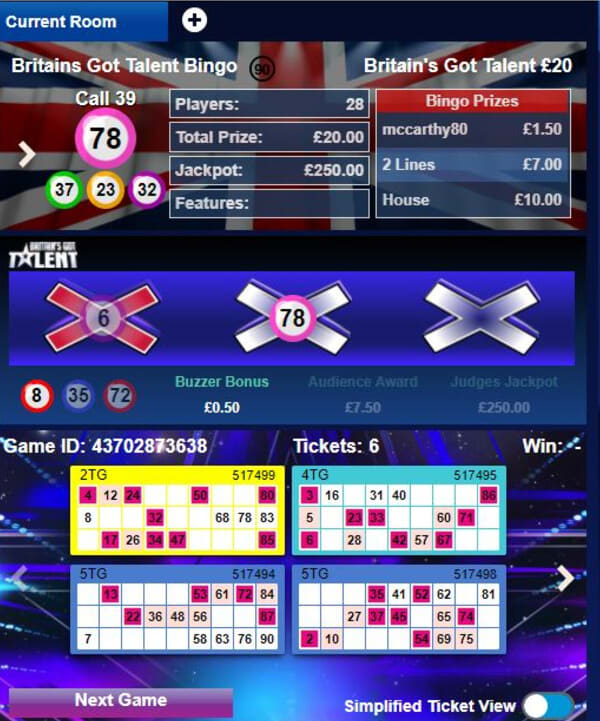 Another popular type of 90-ball bingo games is Britain's Got Talent Bingo, also based on the popular TV talent show. The game is exclusive to Mecca Bingo and is based on the popular game called Lucky Numbers Bingo. When playing Britain's Got Talent Bingo, you'll need to choose 3 lucky numbers and you'll win an extra jackpot when 1, 2, or 3 lucky numbers match the balls or which the winning patterns are called.
The X Factor Bingo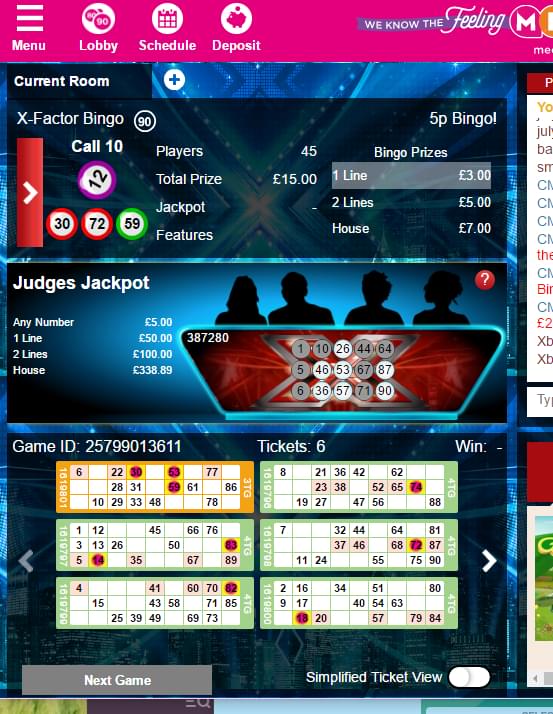 The X Factor Bingo is a 90-ball bingo version on the popular music talent show. The game is available at bingo sites all the time, but it definitely comes to life when the talent show is on. Since this is a 90-ball bingo game, it plays the same as the others. The bingo caller is calling out the winning numbers and you need to get one line, two lines, or full house. Here, the bingo caller is the X Factor announcer. In addition, there's an extra bingo card, called the Judges Jackpot. This card is marked off according to the final call.
Age of the Gods Bingo
Age of the Gods Bingo is another popular type of 90-ball bingo available on the Virtue Fusion network. It's based on the Playtech collection of progressive jackpot slot games. Like the other 90-ball bingo games, so does the Age of the Gods Bingo is played on a standard bingo ticket and it has a round where the winner of the full house turns over coins from an array of 9 until they match 3 to trigger a prize payout. Depending on which of the 4 Gods is matched, you can win different prizes.
Friends Bingo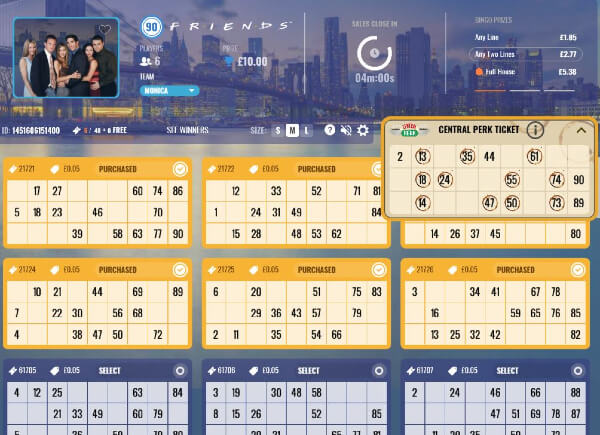 Friends was a popular TV show that debuted many years ago, and people are still watching and loving it. For that reason, it's obvious that developers will come up with a Friends-themed bingo game. Friends Bingo is a 90-ball bingo game, exclusive to Foxy Bingo. It's a standard 90-ball bingo game with the same bingo ticket, but it also comes with 2 extra features. There, we have the Central Perk ticket with fixed prizes, and the Team Community Pot which pays out in every game.
Fluffy Favourites Bingo
And last but not least is the Fluffy Favourites Bingo game. You may have heard about the popular Fluffy Favourites slot, so this bingo game is based on it. It's a standard 90-ball bingo game that comes with a bonus round for the full house winner. There are 3 possible feature games and a slot animation that will reveal the award. All features are based on the bonus features from the slot game and can award some generous mystery prizes.
Start Playing Online Bingo Today
Now that you've learned more about the most popular 90-ball bingo games, you'll probably want to try your luck at some bingo sites, claim your welcome bonus and play some exciting bingo games. If you don't have enough time to search for bingo sites, you can always turn to Bingo Scanner and play at some of the recommended websites. You can always be sure that you'll be depositing and playing in a safe and secure environment. The fun is guaranteed!
Here at Bingo Scanner, we feature the best new bingo sites that are currently available. All of the sites that we recommend are safe and secure and offer plenty of bonuses and games to the players. In fact, We don't just look at the homepage of a bingo site. In fact, we make an in-depth review and test each site individually, before we put it in our list. Therefore, you can be sure that you'll be playing at a reliable site!
Most bingo players turn to Bingo Scanner's best bingo sites to find the ideal one for their needs. Are you going to let us help you to find the greatest bingo site for you?