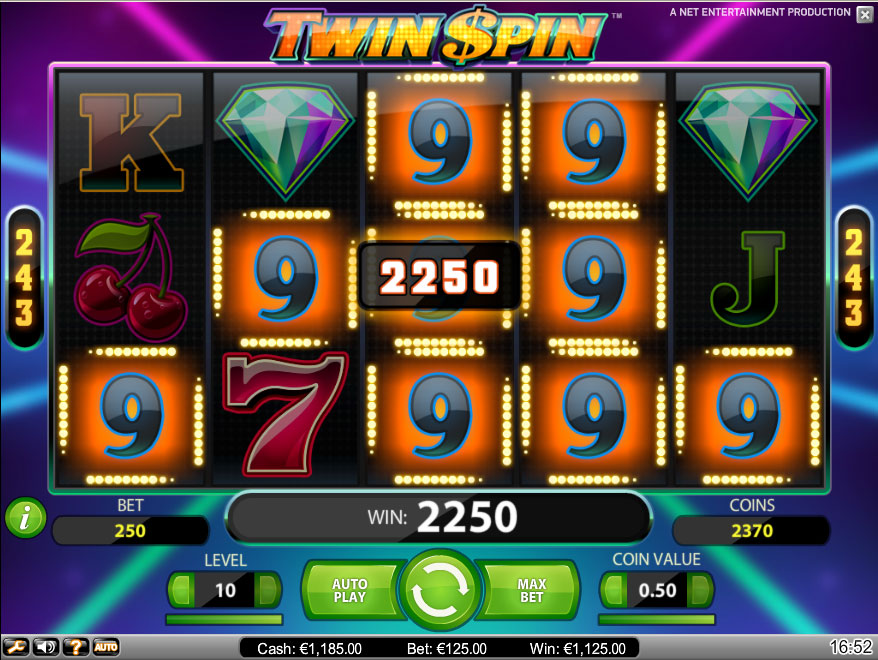 Pros
RTP 96.60%
Exciting Gameplay
Excellent Payouts
Twin Spin Slot Game
Play for the win or for fun on the Twin Spin slot, and you are in for the top payout prize of 270,000 coins on your wager.
Twin Spin Slot Overview
A refreshingly simple spin machine from NetEnt called Twin Spin, seems to do wonders with its 243 paylines and entertaining gameplay. The minimalist design layout does well with the game that wants to be taken as a classic Las Vegas type of slot machine.
Indeed, the manner in which the symbols have been drawn and rendered, as well as the spinning of the reels, does resonate classical reel action, and that sits well with thousands of players out there who actually prefer slots that are resemblant of something uncomplicated and straightforward, while still carrying the signs of aesthetic sufficiency. And, that spells good gaming adventure at any one of our online casinos and slots sites.
Twin Spin Slot Design
Your first look at the Twin Spin slots and you are thinking, this is one regal slot. It couldn't be expected otherwise from Net Entertainment. Their designers seem to possess a mojo when it comes to producing slots because each one delivers fun and entertainment. What is more, when you compare this one to, let's say, the Starburst slot or Dazzle Me, you will notice traces of the same style in how these games have been drawn. That doesn't mean to say NetEnt are repeating themselves, it's just a subtle thing that gives an edge to the visual experience when playing these slot games.
As for the symbols that you will enjoy to follow with your eyes and intuition, there are beautifully drawn, minimalist set of cards numbers and letters: nine and ten, and jack to ace. As for the higher value symbols, there is a pair of cherries, a bell, the BAR symbol, the lucky number seven, a diamond and the Wild symbol in the exact lettering that spells it.
How to Play Twin Spin
To start the reel action on the Twin Spin slot, the first order of business would be setting up the gameplay. This is done bu selecting the Coin Value from the window to the right of the Max Bet button and selecting the Levels. In NetEnt slot games, the level acts as a lever that ups the ante, by extrapolating the coin value across the level number that is selected.
So, when you play with the smallest coin value of 1 penny and on the first level, the total bet per spins amounts to £0.25. To claim the heaviest prize of up to 270,000 coins, the most rewarding outcome would come from playing with a bigger coin size and on a bigger level.
You can fine-tune the amount of your wager to such precision that you can take this game for an extended play. If the quarter-pound seems a sensible wager then playing with just that may also turn up a sizeable reward, such as when the Twin Spin feature occurs and casts an entire screen with one or two of the same symbols, leading to a payout in the thousands, despite on a smaller coin value.
How to Win Twin Spin Slot
The game's strong cash payouts are won with regular in-game winning combinations, but the really big wins are the result of the Twin Spin feature. This occurs at random and the intervals of occurrence are not too few and far in-between. You would know it when it happens. The reels that become twinned are highlighted with a new mode of lighting that makes then stand out. They seem to spin longer in place before landing the combination of symbols. If another reel lights up in the same manner, you can rest assured that there will be a winning combination.
To explain the Twin Spin feature in more precise terms, when one reel becomes Twin Spin active, any other subsequent reel that becomes lit with the same feature will have exactly the same symbols. In other words, the Twin Spin slot bonus feature creates a mirror image of itself. Having four reels light up as part of the Twin Spin feature means you are in for some hefty winning amounts, which depending on your wager, could translate to either three, four or five-figure prizes.
Twin Spin Bonus Features
Although many players who are trying the Twin Spin slot for the first time will expect bonus features, we will have to share a disconcerting fact: there aren't any additional bonus features except the Twin Spin feature. So it is left to the imagination to visualize this online slot with a free spins feature - that would have meant free spins plus the twin spin mirror image of potentially bombastic winning combinations. Now that wouldn't have been fair to the casinos, so the Twin Spin free spins have not been considered as an option in this online slot.
Twin Spin Slot Return to Player
This online slot has a favourable Return to Player probability outcome. For those who aren't familiar with the meaning of RTP, we will put it into perspective. Return to Player is the theoretical outcome for the return of the player's wagered amounts per a minimum of 1000 spins.
So if the Twin Spin RTP is 96.60% the return per one currency unit would be 96.60 in its equivalent. The return to player, however, doesn't mean that the player should take 1000 spins before expecting that much of the wagered amount to be returned. A payout could happen quite early in the game and it could be a lot more than what the game's RTP. That being said, this slot's RTP has a quite nice amount, considering the average which is loosely accepted to be between 94 and 95 percent.
Concluding Remarks
We have here a solid online slot by a renowned company. Entertainment is something that could be guaranteed when playing this game. As for the prizes, Twin Spin slot has a wallop of a prize with its 270,000 coins, so
Claim your welcome bonus from your preferred casino and spin for the win - select the deal from the list right from this page.
Want great offers sent straight to your inbox?
Enter your email below and we'll do all the hard work for you
Welcome to our Mailing List
Keep a look out for our emails containing great offers!