With options like 90 and 75-ball bingo, progressive jackpots, chat games, pre-buys, instants, slots, scratchcards and huge guaranteed daily cash prizes, RedBus Bingo caters to all players on board. RedBus is one of the leading bingo sites around and the bus you don't want to miss!
RedBus Bingo Overview
As soon as you land the homepage of RedBus Bingo, you can see that RedBus is all about bingo. The entire middle section of the homepage is placed on a red bus touring around London. The background presents some of the most famous landmarks like the London Eye, the London Bridge, Big Ben and more. To give you a more enjoyable ride, RedBus greets you with a welcome offer consisting of RedBus Bingo bonus and RedBus Bingo Free spins, as well as other promotions.
Design
As mentioned in the section above, RedBus Bingo is bright red which is found throughout the entire website. When you open the RedBus Bingo homepage, you can see that the site has a pretty simple design. Everything on the site is designed to be reached right from the homepage in a click of a button. The site's header is reserved for the RedBus Bingo logo along with the 'Join Now' button, as well as the login boxes. Right below them are Home, Join Now, Promotions, Games, and Help buttons.
Further down, there is a slider with three slides informing visitors about the recent RedBus Bingo bonus and RedBus Bingo free spins offers. Next to it, on the right, you can see a banner advertising RedBus Bingo's promoted video slot. The homepage also gives you information on additional RedBus promotions, as well as information on the latest winners. If you want to play something different than bingo, RedBus Bingo has a nice selection of slot games from various software development companies.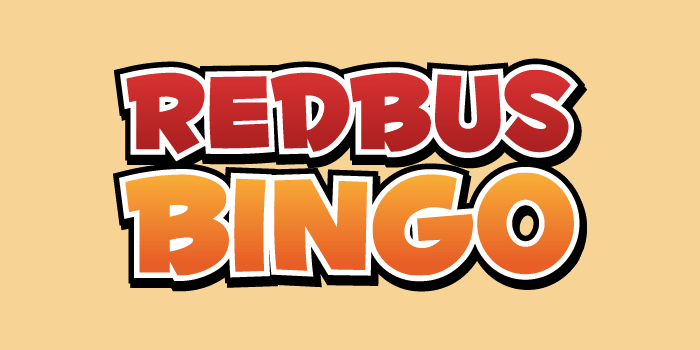 Games at RedBus Bingo
When you have a site with 'bingo' in its name, it is more than obvious that the site specializes in bingo and that bingo is the preferred game of choice for its visitors. As mentioned in the previous section, besides bingo, players can also enjoy a decent selection of online slots for which they can claim a certain number of RedBus Bingo free spins.
Online Bingo
RedBus Bingo is all about bingo with all bingo games just a few clicks away. RedBus Bingo's games can be entered right from the homepage by clicking the Games category on the header. Here players can choose to enter and play many of the bingo games available.
Bingo variations available to players of RedBus Bingo include 75-ball bingo games, 90-ball bingo games, 5 line bingo, Progressive Jackpot bingo games, Pre-buy & Guaranteed Jackpot Games, and Instant Games. The 75-ball bingo tickets have 25 squares arranged in five vertical and five horizontal rows. The aim of the game is to complete the pattern on the card and win some cash.
The second bingo variations available to players at RedBus Bingo is the 90-ball bingo game. This bingo variation is a traditional form of bingo which is usually played in the UK. You just simply purchase a ticket and try to complete one line, two lines, or a Full House before anyone else.
RedBus Bingo has got some great sights for you to see when you decide to play their selection of progressive jackpot bingo games. You can take a tour visiting the 75-ball, 90-ball, and 5 Line games and win big on your way. With RedBus Bingo's guaranteed jackpot games, you can pre-buy your bingo cards and you can play whether you are present in the bingo room or not! If bingo is not your game of choice, ReddBus Bingo offers stacks of instant games for you to play.
Slots
Besides the bingo variants, players at RedBus Bingo can opt to spin the reels of online video slots from some of the best software providers on the market. This section is not that big, but the games are of the utmost quality. As mentioned in the text above, players at RedBus Bingo can claim excellent promotions and offers for playing these slots. These promotions include RedBus Bingo bonus and RedBus Bingo Free Spins which give you more for your money.
RedBus Bingo Offers and Promotions
By hovering your pointer over the Promotions link on the header of the website, you can choose one of the four promotions offered by RedBus Bingo. These RedBus Bingo promotions are titled Newbies, Freebies, Specials, and VIP.
The Newbies promotions are aimed at first-time riders of the RedBus Bingo site. New passengers on RedBus Bingo get a fixed £5 RedBus Bingo bonus on jackpot games every 20 minutes daily at a certain time of the day. New Passengers game is available only to new registered players, while Tenner Every 30 is available to players who deposited within the last 3 days.
The Freebies promotion lets you take time out from your journey to stretch your legs and win some cash sums. There are prize stops every 10 minutes and the amount of the prizes ranges between £1-£2 every 10 minutes.
Specials category is the largest promotions section with seven different promotions. These promotions include My RedBus bingo programme, Monthly £3,000, Bingo Prize Store, Sweet Stack Up, The Daily Unwind, Wheel of Wins, and Let's Get Cracking.
Redbus Bingo Mobile
Being run on one of the best gaming infrastructures in the world, the Redbus Bingo site is available on mobile and all of the games can be played through the player's console which is a mobile app that can be acquired on your Android or iOS device. The app launches quickly and doesn't take much space, so everything is in place for a solid bingo and gaming experience, no matter if you are relaxing at home or on the go.
Our RedBus Bingo Review
If you are a bingo fan and want to play in excellent bingo rooms, then RedBus Bingo is the place for you. By playing bingo games at RedBus Bingo, you can claim excellent promotions and offers that consist of RedBus Bingo bonus and RedBus Bingo Free Spins that get you more for your money.