Quick Overview
Right from the start, Posh Bingo advertises its welcome bonuses. The welcome note is directed to the ladies, as Posh Bingo is dressed as a posh apartment that is the setting for a dress-up before going for a night out. Not that guys can't play Posh Bingo, it's just that the site seems to cater more to the ladies, even though the promotions and bonuses are great for everyone. And also this, if you are just starting Bingo without any previous online Bingo experience, this is the site for you, as it features a step by step guide to all the things you need to know about how to play.
The owner of this site is 888 Holding plc and the site works on the Dragonfish platform. Their games are responsive for mobile and tablet, meaning you can play from the comfort of your home, on the go, or basically wherever you want. The best thing is that you can enjoy the live casino of Posh Bingo, meaning you are playing with a live dealer and players from all around the world connected with cameras.
Posh Bingo Design
The design of Posh Bingo is in deep and dark hues of burgundy, grey, red and orange. It has an intricate colour layout and illustrations of posh ladies and their shoes and accessories. The site has a Community page where they share the Weekly Newsletters - all bingo and slots related, that also includes news about upcoming games and promotions. The Community page also has a Bingo Lingo tab where those who are new to Bingo may get familiar with all the terminology one would meet during a bingo game on in the chatroom. The Posh Bingo chatrooms are a thing of their own - always fun to be in one because of all the fun talk and nice people there.
Bingo Games
Regarding the Bingo games that are available on Posh Bingo, there are the usual games that we all love to play and then there are a few more. Posh Bingo features the 75-Ball Bingo challenge with the 25 squared tickets and five-by-five vertical and horizontal rows that offer an endless combination of winning patterns.
The 90-Ball Bingo game is another of the classic bingo variations. The first player to daub a winning line pattern is a winner. The second and third spots go to players who complete two-line pattern and the Full House for a three-line win, respectively. The 90-Ball Ticket is the usual three times nine chart with five numbered boxes and four empty ones.
In both cases, the size of the payout is determined by the cost per ticket and how many players have played the game. However, some bingo rooms have their predetermined jackpot so the player who wins the game wins a jackpot with that amount.
Posh Bingo lets you set up a number of settings that make your game easier and more enjoyable. Setting a Price Alert lets you hide or make visible the price of your cards inside a bingo room. The Show 3TG option enables the computer to highlight your tickets with one, two or three numbers remaining until Bingo. The Autodaub feature is something which is preferable because it daubs the numbers that you have on your ticket as they are called. At any rate, even if you don't select Autodaub, Posh Bingo will always register and validate your winning combinations!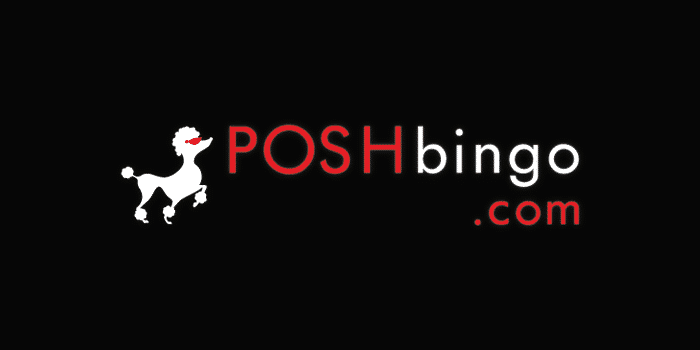 Posh Bingo Promotions
As we mentioned above, the first thing that jumps at you upon visiting the site is the welcome bonus. Not a bad way to start your Posh Bingo experience at all. Then, you will eventually discover the New Free & Fab Tab which are free Bingo games that last for three days from your sign up. The best thing about this promotion is that you have a chance to win £300 per day without making a deposit! The game hours are 7 AM to 10 PM every day and the fun is mostly located in the 75-Ball Bingo department.
The £1000 Monday Catwalk is a promotion for the 90-Ball Bingo starting every Monday at 10:30 PM. This is open to players who have deposited at least once in the previous seven days and has prizes such as £300 for a Full House, £100 for two lines, £250 for 1TG and a lot more.
The Free Sunday £250 is exclusively for portable devices such as mobile and tablet. You can make £250 from anywhere at 9 PM but this is only for players who are keeping a deposit with Posh Bingo.
Security and Withdrawals
Posh Bingo uses the latest safety protocols so that your gameplay goes on as smooth and as safe as possible. There are regulations set in place that ensure complete fairness for the players. When it comes to making deposits and withdrawals, Posh Bingo works with all of the best E-wallets and payment options out there, starting with Visa and MasterCard and moving onto EntroPay, PayPal and many more which you can learn about on their Frequently Asked Questions page.
Posh Bingo Loyalty Points
Posh Bingo offers rewarding promotions for its loyal players in the form of points called Posh Bingo Loyalty Points. These Bingo Points are awarded through promotions, the purchase of bingo cards, bingo chat rooms or by playing on IG and are considered bingo bonuses. These loyalty points can then be cashed in for money or used for something else that may be offered at Posh Bingo.
You can be rewarded Posh Bingo Loyalty Points for many of your actions such as playing games, referring a friend and more. You can convert these points into money in your Posh Bingo account or exchange them for some other specials that Posh Bingo offers from time to time.
Purchasing Bingo Cards
Posh Bingo Points are awarded for every bingo card that you purchase. Thus, for every 10p bingo card that you purchase at Posh Bingo, you are awarded 1 Posh Bingo Loyalty Point. But not all bingo card purchases are eligible for Loyalty Points. Only bingo card purchases with real money from your bankroll will be eligible for the Loyalty Points.
Referring Friends
Another easy way to earn Posh Bingo Loyalty Points is to refer a friend to Posh Bingo. When you refer a friend to their bingo site, Posh Bingo will award you with excellent 20,000 Posh Bingo Loyalty points which you can either exchange for cash or use them for some other special offered by the site. This can turn out to be a very rewarding feature of Posh Bingo if you have a lot of friends that you can refer to the site. So, start referring your friends to Posh Bingo and get ready for plenty of Loyalty Points heading your way!
Exchanging Loyalty Points
As mentioned in the sections above, you are given the possibility to either exchange your Bingo Points for cash or use them for some other specials offered by the site from time to time. If you decide to redeem your Loyalty Points for bonus funds, you can do that via the 'My Account' page at Posh Bingo. For each 1,000 Posh Bingo loyalty points that you decide to redeem, you will get £1 which will be added to your account.
Posh Bingo Withdrawal
To make a withdrawal from Posh Bingo, you need to go have at least £10, which is far less than the competitors, making Posh Bingo stand out from all of them. The process is a bit slow and it may take up to 7 days, but the best thing is that your money is guaranteed, and the site has proven to be a relevant one if you want to play online games. There are separate bingo and games wagering requirements, and the bingo one is a 2x deposit and bonus, while the games are x50 bonus only.
Posh Bingo Review
As you have the full idea by now, Posh Bingo is one of the most popular sites for new players. Once you have become an intermediate or veteran player, you are welcome to continue as the platform works all the same for everyone, it just makes it easier for new players to find their way around. What makes Posh Bingo such a great site are the promotions and bonuses. Feel free to use the Welcome Bonus and unlock the doors to many subsequent promotions, free spins, free money and more for unforgettable times with Bingo loves from all over the UK and beyond.