Paddy Power Bingo Overview
As of November 2013, the green and gold design of Paddy Power Bingo was replaced by dark green and pink. This facelift kept the distinctive look of the site and gave it a modern twist. Moving forward to 2017, Paddy Power adopted the new Playtech HTML5 platform making all the games that were previously available only on mobile available to PC and laptop players too.
Due to the excellent selection of gaming options, bingo rooms at Paddy Power Bingo can be quite busy. This is especially true for the more popular 75-ball and 90-ball rooms which makes for good prizes in those rooms. Anyone looking to play a game of bingo without leaving the comfort of their home should try Paddy Power Bingo and claim a Paddy Power Bingo bonus or two!
Paddy Power Bingo Games & Software
A site with bingo in its name is definitely a site where the preferred game is bingo. Being a bingo site, Paddy Power Bingo offers many variations of bingo games. Some of the games that are available at Paddy Power Bingo include the standard 90-ball bingo, 75-ball bingo and the more recent 80-ball bingo.
Their game selection also includes bingo games like Speed Bingo, Rainbow Riches Bingo, Deal or No Deal Bingo, Bouncy Balls Bingo and other.
Besides bingo and bingo games, players at Paddy Power Bingo can also try their luck spinning the reels of some online video slots. Paddy Power Bingo's collection of slots includes a total of 98 games for which you can receive a certain Paddy Power Bingo bonus or Paddy Power Bingo free spins. Slots are represented with 59 games, jackpot slots with 24 games, while the smallest category belongs to Scratch Cards with 12 games.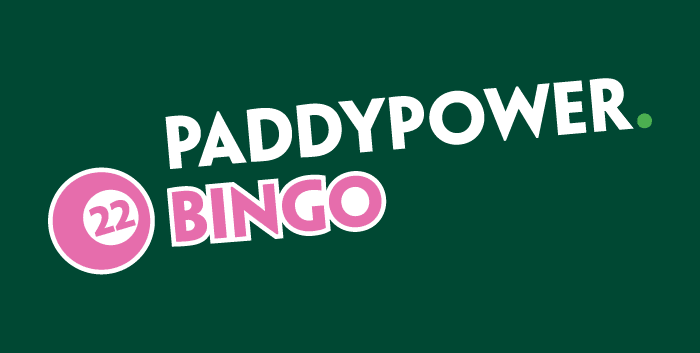 Paddy Power Bingo Bonuses & Promotions
As stated in the sections above, by deciding to register and play at Paddy Power Bingo, you get the opportunity of claiming various promotions including Paddy Power Bingo bonus and Paddy Power Bingo free spins. By visiting the Paddy Power Bingo promotions section, you can claim some of the following Paddy Power bonuses and promotions:
Newbie Room
The Newbie Room is available only to Paddy Power online customers who are over 18 years. To claim this offer, you need to be registered on the Paddy Power Bingo website. Once you sign up and spend £10 on bingo tickets only, the Newbie Room will become available to you in the Lobby. In return, you'll get to play with £40 cash and will receive 100 free spins. Great, right? £10 from the funds will be given as slots bonus, £30 as bingo bonus, while the free spins can be used on Paddy Power Mystery Gold.
Free Bingo
Just like the Newbie Room, only registered Paddy Power Bingo customers from the UK and Ireland, aged 18 and over, can take part in Free Bingo. To qualify for this, you need to log in to Paddy Power Bingo and play in the Super Bargain Room during the promotional period. Here you can win free bingo games every half hour with all prizes being awarded as a Paddy Power Bingo bonus with a certain wagering requirement. All prizes are awarded immediately upon winning with the bonus expiring after seven days.
Roomie of the Week
If socialising alongside playing bingo is the main reason why you play bingo, that this promotion would interest you! If you are chatting while playing bingo, then you could be crowned Paddy Power Bingo Roomie of the Week and receive a nice Paddy Power Bingo bonus. Every Monday, one roomie will be selected from the Gold, Diamond, Sapphire, Topaz, Speed Trap, Pick & Mix, and Bargain Basement rooms and crowned Roomie of the Week. The Paddy Power Bingo chat moderators will vote on the Roomie that they think contributed the most. Besides the title, the Roomie will take away 20,000 Star Points as a thank you for their contribution to the chat in the bingo room.
Paddy's All Nighter
The party in the Gold Room continues to the early hours with a guaranteed prize fund of €2,500 available between 2 am and 6 am for all registered Paddy Power Bingo customers in UK and Ireland. The Gold Room is the only bingo room where you can play this promotion and all you need to do is log in to Paddy Power Bingo and play in the qualifying room. There is a guaranteed prize fund of €2,500 waiting for you available between midnight and 6 am UK time. All prizes in Paddy's All Nighter are paid out in cash and awarded immediately upon winning.
Bingo Tuesday
Tuesday's just got better at Paddy Power Bingo because they are offering 1TG and 2TG prizes in the Sapphire Room between 8 pm and 11 pm. To qualify for this promotion, you need to log in to Paddy Power Bingo and play in the qualifying room during the promotional period. The breakdown of games is the following: 8pm-9pm 1TG Prizes, 9pm-10pm 1TG & 2 TG Prizes, and 10PM-11pm 1TG Prizes. The 1TG/2TG prizes are credited as BBs with the credits not being instant but should appear within 5 minutes of game close.
Paddy Power Bingo Live Chat
Before reaching out to customer support via the Paddy Power Bingo live chat platform you can always check the Help page, where you will find plenty of useful information. There are several categories including gaming queries, my account where you can read more on account registration and related issues, then responsible gaming, customer security and few more.
So, for example, if you have an issue regarding deposits, your card wasn't accepted, or something else, you should go to the Help section, click on 'Deposits and Withdrawals' and see if your question is perhaps answered there. If you have a more specific query which can't have possibly been raised by someone else, go straight to the customer support section where you can choose how to contact customer service.
It is not just us saying that the Paddy Power Bingo live chat is the best option, Paddy Power Bingo admits that too, you will notice a 'Best Option' logo in the top right corner of the live chat window. But, if you think that you might get better service over the phone, there's nothing stopping you to phone them and get an answer over the phone.
Other Communication Channels
Another channel through which Paddy Power contact their customers is Twitter and considering the popularity of social media and Twitter, in particular, it is not surprising that they use it as a communication tool. The Ask Paddy Power account is the profile used to communicate with customers directly, so if you ask them a question there you can expect a relatively fast answer.
Paddy Power is also active on other social media such as Facebook and the operator also has its own YouTube channel. If you follow them on social media you will get timely updates on all recent offers and promotions, as well as any news regarding Paddy Power.
Customer Support
Customer communication is one of the most important aspects for every bingo operator, and Paddy Power invests a lot into ensuring that all customer issues are handled smoothly. If you need to contact them about anything don't hesitate at all, the customer support team of Paddy Power Bingo is more than helpful and reliable, and they will be happy to assist you.
If you need general information about this provider, the terms and conditions, or the rules and regulations, you will find relevant links on the main page.
Paddy Power Withdrawal
There are many methods that you can withdraw your won cash from Paddy Power. Here, we can list some of them, for example, Bank Wire Transfer, Cheque, Laser, Neteller, PayPal, Solo, Visa Delta, Visa Electron, Visa, Skrill, and many others.
The minimum amount that you can deposit it £5 while the minimum that you can withdraw is £10. The estimated time you need to wait for the deposits to come to live and you to lay them is immediate, while the withdrawal procedures are two to three working days. You can also cancel the withdrawals up to 11:30 PM on the same day that you've submitted your withdrawal request. The top time for withdrawal up to now has been five working days, but it usually is a lot faster.
The best thing is that Paddy Power doesn't post a charge on the debit card transaction and it absorbs all the fees that usually are present with the online gambling withdrawals. Deposits made to Paddy Power over the phone should appear on your statement as 'PP PHONES'. Deposits made online should appear as 'PP ONLINE'. Best of luck spinning the reels or the wheels in this online casino, and make sure you read these statements before your withdrawal.
Our Paddy Power Bingo Review
If you love the classic when it comes to bingo, then you should know that Paddy Power Bingo has you covered by providing rooms dedicated to 90-ball, 75-ball, and 80-ball bingo. It makes no difference whether you are an absolute beginner or a seasoned player, Paddy Power Bingo caters for absolutely everyone. You can rest assured knowing that you are playing the classic bingo game with a proven brand like Paddy Power.